Acid-Kicking Coffee Bundle
Regular price

$ 232.83

Sale price

$ 209.55
1. HEALTH BENEFITS:

Acid Neutralizer: One packet turns your acidic coffee into a mineral-rich, Acid-Kicking Coffee.
Gut Health Booster: Alleviate indigestion, bloating, inflammation, and stomach irritation.
Inflammation Fighter: Neutralize the acid in your coffee that's driving up the inflammation in your body.
Mineral Infusion: Replenish essential minerals depleted by coffee, strengthening your energy and daily performance.
Reflux Reliever: Enjoy the upside of your coffee without the acid reflux downside. Prevent acid reflux caused by coffee's acidity.
2. HOW IT WORKS:

Acid-Kicking Black Coffee Alkalizer:


Neutralize acids: Research proven to eliminate up to 99% of the acid in your coffee.
Boost mental and physical performance: Reduces acid and replenishes minerals to strengthen your body and prevent any post coffee crash.
Enjoy your favorite cup worry-free: No more acidity-related digestive discomfort



Acid-Kicking Flavored Coffee Alkalizers (Vanilla, Salted Caramel, Mocha):


Acid-Fighting Minerals: Neutralize the acids that drain you of the minerals you need to look & feel good
Premium Keto Fats: Accelerate fat-burning and maintain mental focus throughout your day
Himalayan Pink Salt: Alkalize and energize your body to eliminate sugar cravings
Fat-Burning Enzymes: Ignite your metabolism and tap into stored body fat


Acid-Kicking Coffee Alkalizer (Hazelnut)


Brain Boosting Nootropics: Boost mental clarity, focus and memory
Acid-Fighting Minerals: Neutralize the acids that drain you of the minerals you need to look & feel good
Premium Keto Fats: Accelerate fat-burning and maintain mental focus throughout your day
Himalayan Pink Salt: Alkalize and energize your body to eliminate sugar cravings
Fat-Burning Enzymes: Ignite your metabolism and tap into stored body fat
3. WHEN TO TAKE IT:

Acid-Kicking Black Coffee Alkalizer:


Add one packet to your coffee, espresso, iced coffee, or tea
One packet will neutralize up to 22oz of coffee (Venti Size)
Stir well for a smooth, delicious taste.
Add daily for an Acid-Kicking Coffee experience


Acid-Kicking Flavored Coffee Alkalizers (Vanilla, Salted Caramel, Mocha):


Add one scoop to your coffee, espresso, iced coffee, or tea
One scoop will neutralize up to 22oz of coffee (Venti Size)
Stir well for a smooth, delicious taste in four amazing flavors: Hazelnut, Salted Caramel, Mocha, and Vanilla
Add daily for an Acid-Kicking Coffee experience


Acid-Kicking Coffee Alkalizer (Hazelnut):


Add one scoop to your coffee, espresso, iced coffee, or tea
One scoop will neutralize up to 22oz of coffee (Venti Size)

Stir well for a smooth, delicious taste in four amazing flavors: Hazelnut, Salted Caramel, Mocha, and Vanilla

Add daily for an Acid-Kicking Coffee experience
Share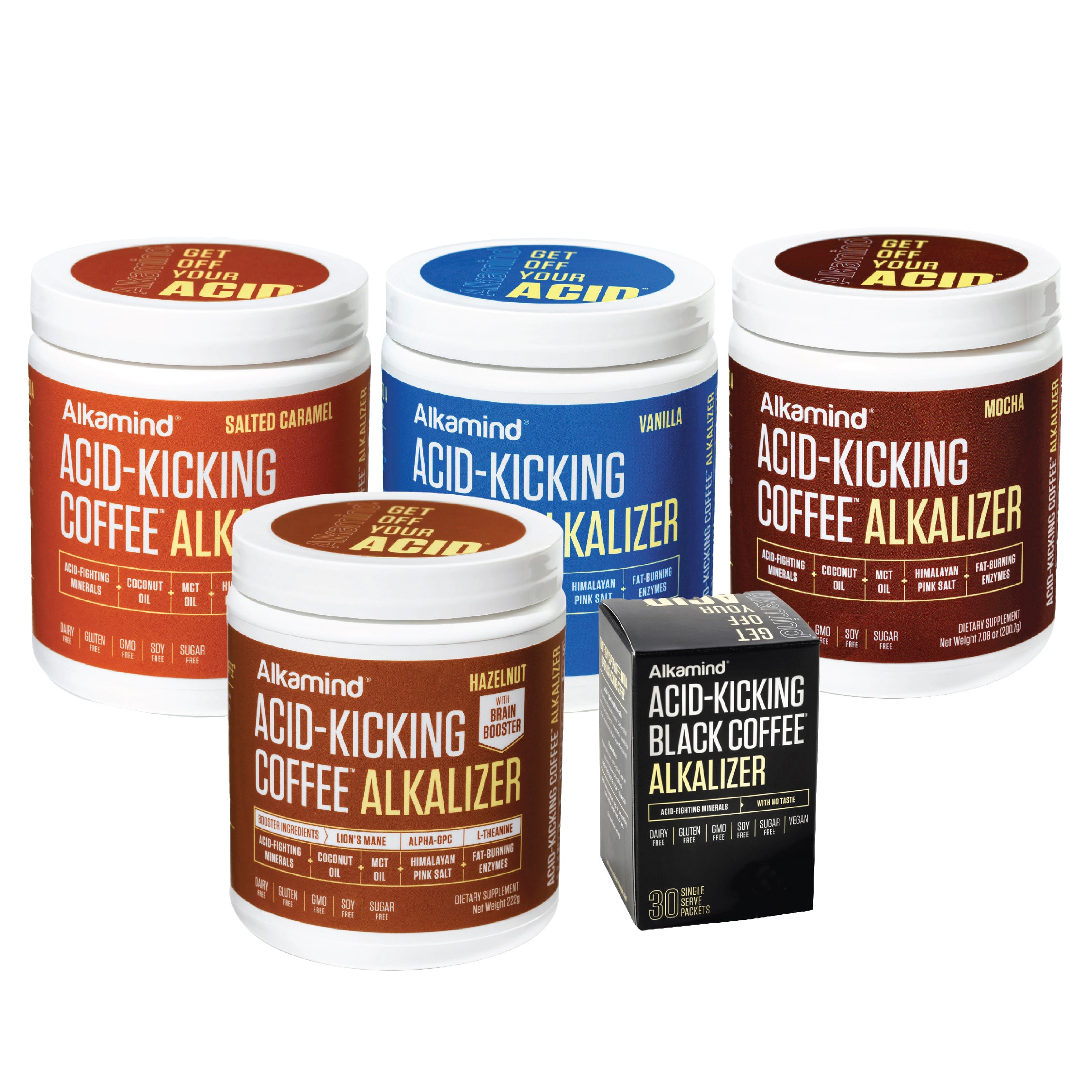 100% Satisfaction Guaranteed

EASY RETURNS

30-DAYS MONEY BACK GUARANTEE

FREE SHIPPING ON ORDERS OVER $99