Kick Acid Reflux Bundle
Regular price

$ 169.88

Sale price

$ 152.89
1. HEALTH BENEFITS:

Eliminate acid reflux: No more burning sensations
Deeper, More Restful Sleep: Wake up refreshed and rejuvenated
Strengthen your digestion: Eliminate bloating & indigestion
Combat constipation: Get things moving smoothly
Alleviate Stress & Anxiety: Calm your mind: You're getting the root cause
2. HOW IT WORKS:

Acid-Kicking Minerals: 4 pure & alkaline minerals to neutralize the acid and inflammation
Acid-Kicking Black Seed Oil: 3x More Anti-Inflammatory than turmeric to soothe and calm your GI Tract
Acid-Kicking Magnesium: Lowers inflammation, neutralizes acidity, & flushes out toxins at the cellular level.
Acid-Kicking Greens: 21 nutrient-dense organic superfoods to alkalize and strengthen your gut from the inside out.
3. WHEN TO TAKE IT:

Acid-Kicking Minerals

Nighttime for better sleep, post-workout to neutralize lactic acid, or whenever you're feeling chest or throat burn.
Suggested Use: Mix 1 scoop into 8-16 oz. of water, juice, or smoothie, 1 to 3 times daily
Kid-friendly: Consult your healthcare professional or pediatrician before giving it to your little warriors

Acid-Kicking Black Seed Oil

Suggested Use: Take one capsule daily with food, to optimize absorption and prevent repeating.
Personalize Your Dose: Adjust the serving size based on your needs and health goals, consulting with your healthcare professional for guidance.

Acid-Kicking Magnesium

Suggested Use: Take one capsule 1-4 times daily, with or without food.
Personalize Your Dose: Adjust the serving size based on your needs and health goals, consulting with your healthcare professional for guidance.

 

Acid-Kicking Greens

Suggested Use: mix 1 scoop into 8-16 oz. of water, juice, or smoothie, 1 to 3 times daily
Safe and recommended for children, but consult your healthcare professional or pediatrician before taking
Share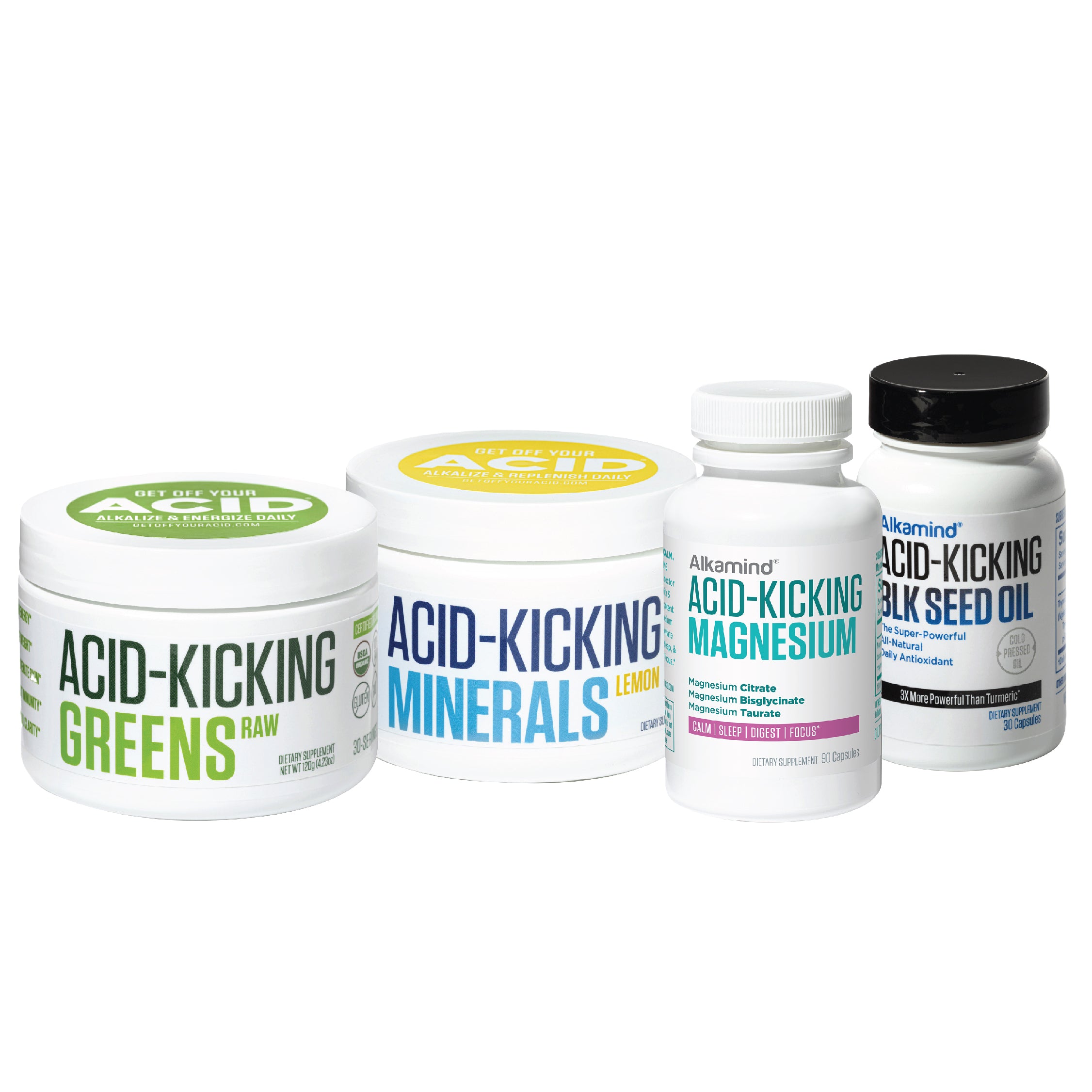 100% Satisfaction Guaranteed

EASY RETURNS

30-DAYS MONEY BACK GUARANTEE

FREE SHIPPING ON ORDERS OVER $99