Mental Health Brain Bundle
Regular price

$ 179.96

Sale price

$ 161.97
1. HEALTH BENEFITS:

Acid-Kicking D3+K2- 1 bottle – 60 servings

– Your choice of Unflavored or Mint flavor

Strengthens Bones: Our D3+K2 supplement enhances calcium absorption and utilization, fortifying your bones.
Boosts Heart Health: The power of K2 aids in preventing calcium deposits in arteries, promoting a healthier heart.
Amplifies Immunity: With D3 in the mix, your immune system gets a robust boost, enhancing disease resistance.
Supports Mental Wellness: The D3 component may alleviate symptoms of depression and anxiety, fostering mental health.
Maximum Bioavailability: Our blend of D3 and K2 ensures optimized absorption and use of both vitamins.

Acid-Kicking Black Seed Oil - 1 bottle – 30 servings

3x More Anti-Inflammatory Power: Dethrones turmeric as the most powerful, all-natural anti-inflammatory.
Potent and Powerful: With 3% Thymoquinone, our Black Seed Oil is three times more potent than every other black seed oil.
Superior Antioxidant Support: 1,000 times more active antioxidants than Vitamin E, protecting you from premature aging.
Legendary Beauty Secret: Lower inflammation to unlock radiant skin, balanced hormones, and stronger hair, skin & nails.
Healthy Heart Support: Balance cholesterol levels and promote cardiovascular health & blood pressure.

Acid-Kicking Omega-3 Fish Oil - 1 bottle - 30 servings

Healthy Heart: Support your heart health with Omega-3s - they lower triglyceride levels, reduce blood pressure, and prevent blood clot formation.
Boost Brainpower: Enhance cognitive function and memory with DHA, an essential omega-3 fatty acid crucial for brain health.
Fight Inflammation: Reduce chronic inflammation, linked to various health conditions, with the anti-inflammatory properties of Omega-3s.
Mood Support: Regulate your mood and promote mental well-being with omega-3s, potentially reducing symptoms of depression and anxiety.
Radiant Hair, Skin & Nails: Nourish and strengthen your anti-aging beauty routine by retaining moisture, reducing inflammation, and supporting skin cell regeneration.

Acid-Kicking Magnesium - 1 bottle - 30 servings

Alleviate Stress & Anxiety: Calm your mind and enhance your mood
Ease muscle cramps: Relax your muscles and get relief.
Sleep deeply and peacefully: Drift off easily & experience deeper REM Sleep
Strengthen your digestion: Eliminate bloating, indigestion, acid reflux, & constipation
Elevate brain function: Think clearly and maintain focus.
2. HOW IT WORKS:

Acid-Kicking D3+K2

Organic Plant-Based Liquid Vitamin D3: For maximum absorption and calcium optimization
Vitamin K2 MK-7: Elite bioavailable K2, working hand-in-hand with D3 for bone strength and calcium control
Organic Hemp & Extra Virgin Olive Oil: Keto-friendly fats to support heart health, blood pressure regulation, and nutrient absorption
Vitamin E: Antioxidant double agent, boosting skin and joint health while maintaining supplement freshness and potency

Acid-Kicking Black Seed Oil

Powerful Ingredients: Premium black seeds, rich in Thymoquinone, a potent compound known for its anti-inflammatory and immune-boosting properties.
Anti-Inflammatory Superhero: Thymoquinone helps reduce inflammation in the brain and body, supporting mental & digestive wellness.
Amplified Antioxidants: High concentration of antioxidants to fight oxidative stress, protecting your cells from damage, promoting a youthful glow.

Acid-Kicking Omega-3 Fish Oil

Pure Potency: Our product undergoes rigorous triple purification, ensuring pharmaceutical-grade quality and maximum potency.
Ocean's Finest: Sourced from deep, cold ocean-water fish, our wild-caught fish oil guarantees freshness and effectiveness.
Optimal Balance: With a perfect 2:1 ratio of EPA to DHA, our concentrated formula promotes heart health, brain function, and reduces inflammation.
Cellular Defense: Our natural antioxidants combat oxidative stress, slow down premature aging, and provide support for a healthy heart.
Metal-Free Assurance: Rest easy knowing our fish oil is free from all heavy metals, including mercury, cadmium, lead, PCBs, and 400+ other contaminants.

Acid-Kicking Magnesium

Unleash the Power of Three: The 3 most powerful forms of Magnesium to support gut, heart and brain health
Cellular Detoxification & Rejuvenation: Magnesium dives deep, flushing out toxins at the cellular level.
Rapid, Efficient Uptake: Medical grade Magnesium with maximum bioavailability to absorb and act quickly
Absorb Every Bit: Chelated to end up in your cells, not in your urine; you absorb every drop for full-body relaxation.
3. WHEN TO TAKE IT:

Acid-Kicking D3+K2

Suggested Use: Take 0.5 ml (10 drops, or half dropper) daily, preferably with first meal of the day
Flexible Dosing: Adjust the number of drops to fit your needs, from 500 IU to 10,000 IU
Direct Absorption: For optimal results, take under or directly onto your tongue
Unflavored or Mint: Choose the flavor that suits you best, with light, nutty notes in the unflavored option

Acid-Kicking Black Seed Oil

Suggested Use: Take one capsule daily with food, to optimize absorption and prevent repeating.
Personalize Your Dose: Adjust the serving size based on your needs and health goals, consulting with your healthcare professional for guidance.

Acid-Kicking Omega-3

Suggested Use: Take 1-3 softgels per day with food, or as directed by your healthcare provider
Recommended Dosage: For adults, a daily maintenance dosage of 3,000mg is recommended, which is equivalent to 3 softgels per day. Children over the age of 12 can also benefit from this supplement, but please consult your healthcare professional or pediatrician for appropriate dosage.
Flexible Dosing: Our softgels can be taken all together or separated throughout the day to fit your needs and preferences.

Acid-Kicking Magnesium

Suggested Use: Take one capsule daily with or without food. May take up to 4 times daily.
Personalize Your Dose: Adjust the serving size based on your needs and health goals, consulting with your healthcare professional for guidance.
Share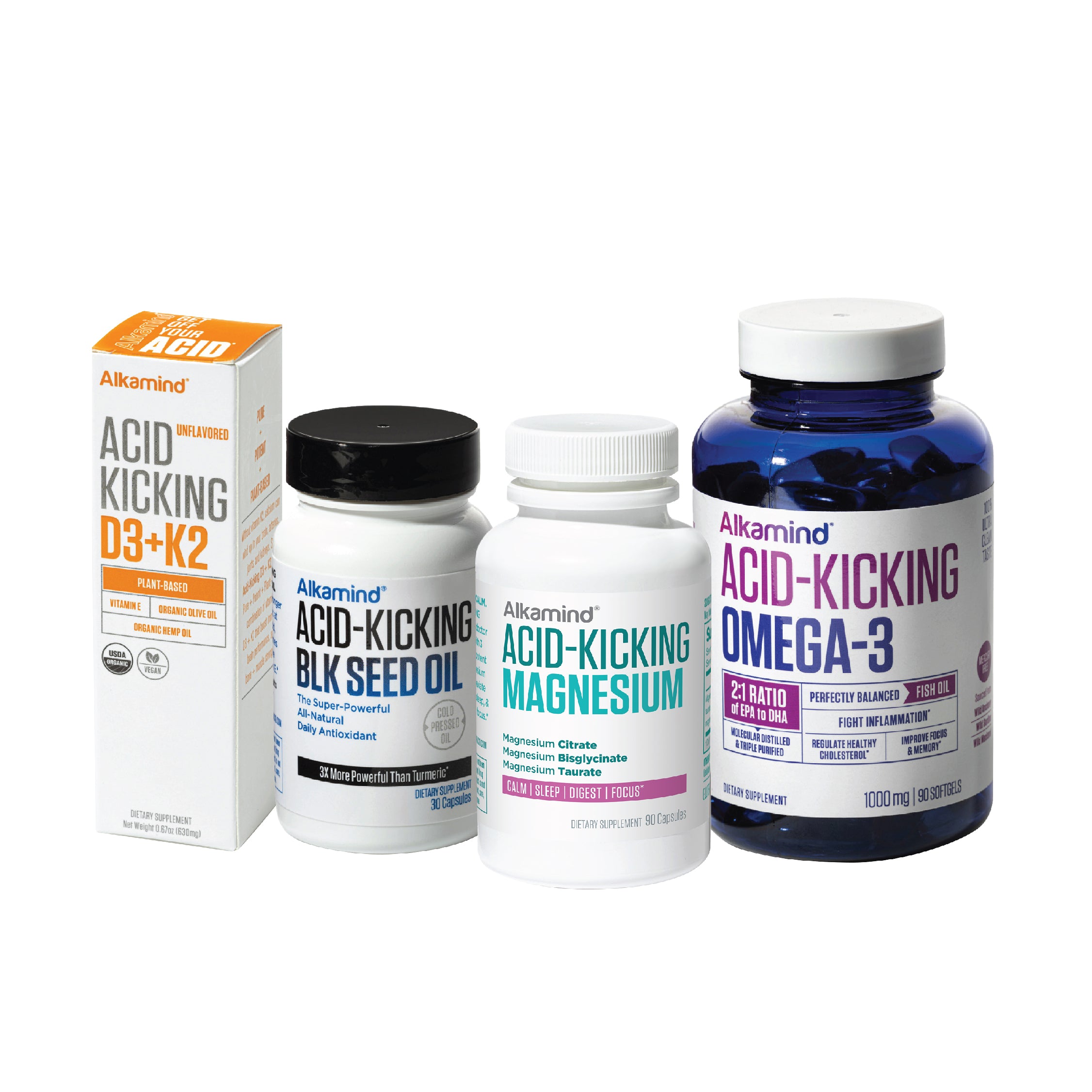 100% Satisfaction Guaranteed

EASY RETURNS

30-DAYS MONEY BACK GUARANTEE

FREE SHIPPING ON ORDERS OVER $99