Acid-Kicking Secret Bundle
Regular price

Sale price

$ 189.88
1. HEALTH BENEFITS:

Acid-Kicking Greens - 30 servings – Your choice of Peach or Citrus

Energizes, detoxifies, and alkalizes your body for improved overall health
Lower inflammation and boost metabolism
Boosts energy levels, mental focus, and supports weight loss
Strengthens your hair, skin, and nails
Restore balance to your microbiome

Acid-Kicking Minerals – 30 servings - Your choice of Kiwi Strawberry or Blood Orange flavor

Eliminate acid reflux: No more burning sensations
Sleep like a baby: Wake up refreshed and rejuvenated
Improve digestion: Keep your gut happy and healthy
Combat constipation: Get things moving smoothly
Crush sugar cravings: Resist the temptation for sweets
Speed up workout recovery: Get back in the game faster
Boost mental clarity: Stay sharp and focused

Acid-Kicking Black Seed Oil - 1 bottle – 30 servings

3x More Anti-Inflammatory Power: Dethrones turmeric as the most powerful, all-natural anti-inflammatory.
Potent and Powerful: With 3% Thymoquinone, our Black Seed Oil is three times more potent than every other black seed oil.
Superior Antioxidant Support: 1,000 times more active antioxidants than Vitamin E, protecting you from premature aging.
Legendary Beauty Secret: Lower inflammation to unlock radiant skin, balanced hormones, and stronger hair, skin & nails.
Healthy Heart Support: Balance cholesterol levels and promote cardiovascular health & blood pressure.

Acid-Kicking Omega-3 Fish Oil - 1 bottle - 30 servings

Healthy Heart: Support your heart health with Omega-3s - they lower triglyceride levels, reduce blood pressure, and prevent blood clot formation.
Boost Brainpower: Enhance cognitive function and memory with DHA, an essential omega-3 fatty acid crucial for brain health.
Fight Inflammation: Reduce chronic inflammation, linked to various health conditions, with the anti-inflammatory properties of Omega-3s.
Mood Support: Regulate your mood and promote mental well-being with omega-3s, potentially reducing symptoms of depression and anxiety.
Radiant Hair, Skin & Nails: Nourish and strengthen your anti-aging beauty routine by retaining moisture, reducing inflammation, and supporting skin cell regeneration.
2. HOW IT WORKS:

Acid-Kicking Greens

Doctor-Formulated with 21 nutrient-dense alkaline superfoods to strengthen your body from the inside out.
5 servings of organic greens in every scoop
100% raw and organically grown for maximum freshness and potency
No GMOs, gluten, soy, sugar or anything artificial

Acid-Kicking Minerals

4 pure alkaline minerals and organic lemon juice powder: A potent combo for a healthier you
Perfect 1:1 ratio of calcium to magnesium: Balanced and ready to rock
Chelated Mg for peak absorption and bioavailability: Get the most out of your minerals
Medical-grade quality: Trust the experts with your health
Fast-acting powdered delivery system: Mix, drink, and feel the benefits

Acid-Kicking Black Seed Oil

Powerful Ingredients: Premium black seeds, rich in Thymoquinone, a potent compound known for its anti-inflammatory and immune-boosting properties.
Anti-Inflammatory Superhero: Thymoquinone helps reduce inflammation in the brain and body, supporting mental & digestive wellness.
Amplified Antioxidants: High concentration of antioxidants to fight oxidative stress, protecting your cells from damage, promoting a youthful glow.

Acid-Kicking Omega-3 Fish Oil

Pure Potency: Our product undergoes rigorous triple purification, ensuring pharmaceutical-grade quality and maximum potency.
Ocean's Finest: Sourced from deep, cold ocean-water fish, our wild-caught fish oil guarantees freshness and effectiveness.
Optimal Balance: With a perfect 2:1 ratio of EPA to DHA, our concentrated formula promotes heart health, brain function, and reduces inflammation.
Cellular Defense: Our natural antioxidants combat oxidative stress, slow down premature aging, and provide support for a healthy heart.
Metal-Free Assurance: Rest easy knowing our fish oil is free from all heavy metals, including mercury, cadmium, lead, PCBs, and 400+ other contaminants.
3. WHEN TO TAKE IT:

Acid-Kicking Greens:

One scoop equals 5 servings of organic greens
Contains 30 servings per container
For best results: mix 1 scoop into 8-16 oz. of water, juice, or smoothie, 1 to 3 times daily
Safe and recommended for children, but consult your healthcare professional or pediatrician before taking

Acid Kicking Minerals

Nighttime for better sleep, post-workout for faster recovery, or when battling cravings and stress
Mix 1 scoop into 8-16 oz. of water, juice, or smoothie, 1 to 3 times daily
Kid-friendly: Consult your healthcare professional or pediatrician before giving it to your little warriors

Some of Our Favorite Ways To Drink:

Mix in cold water for a refreshing boost
Add an organic lemon or lime slice for an extra kick
Combine with coconut water for hydration and taste
Blend into your favorite smoothie for a nutrient-packed treat

Acid-Kicking Black Seed Oil

Suggested Use: Take one capsule daily with food, to optimize absorption and prevent repeating.
Personalize Your Dose: Adjust the serving size based on your needs and health goals, consulting with your healthcare professional for guidance.

Acid-Kicking Omega-3

Suggested Use: Take 1-3 softgels per day with food, or as directed by your healthcare provider
Recommended Dosage: For adults, a daily maintenance dosage of 3,000mg is recommended, which is equivalent to 3 softgels per day. Children over the age of 12 can also benefit from this supplement, but please consult your healthcare professional or pediatrician for appropriate dosage.
Flexible Dosing: Our softgels can be taken all together or separated throughout the day to fit your needs and preferences.
Share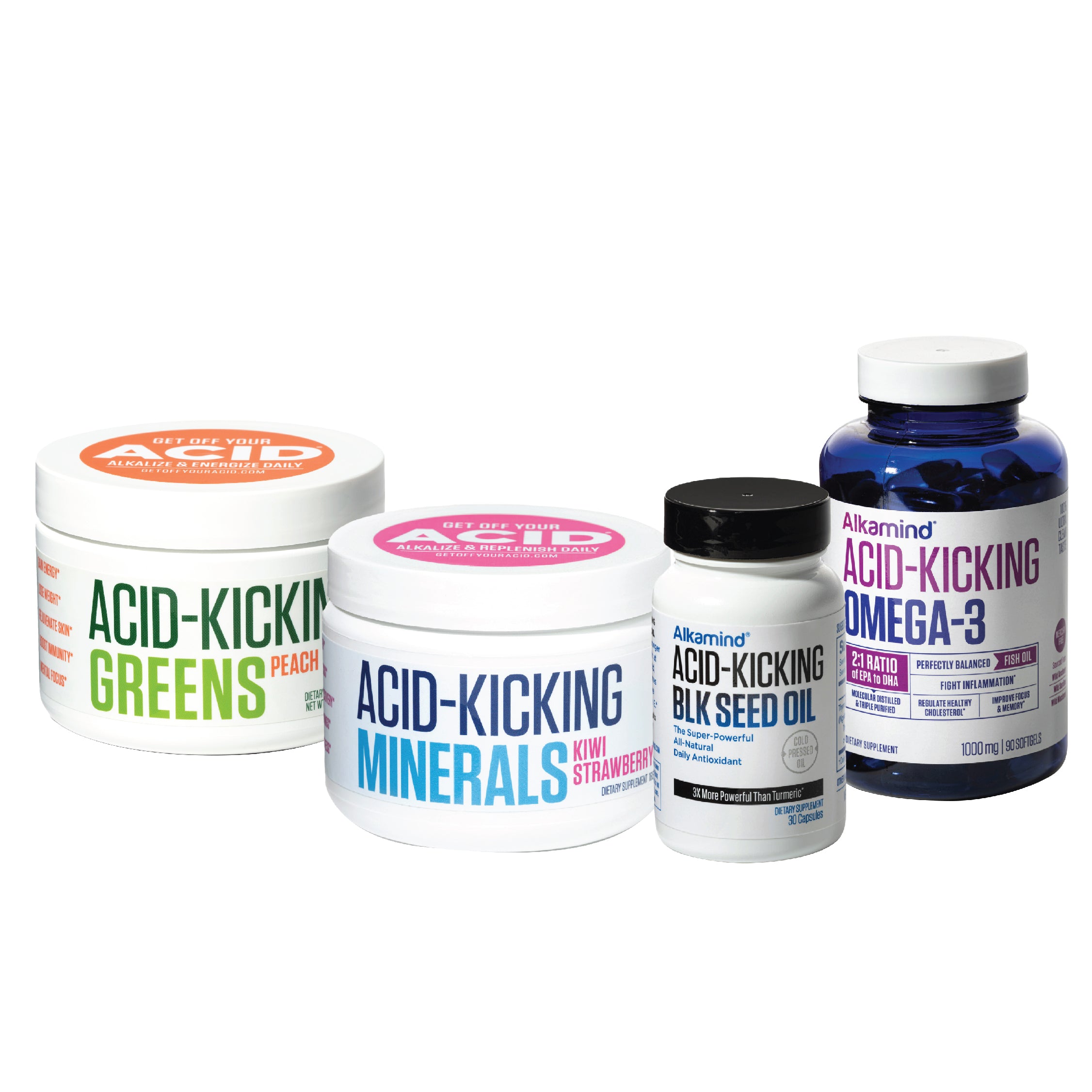 100% Satisfaction Guaranteed

EASY RETURNS

30-DAYS MONEY BACK GUARANTEE

FREE SHIPPING ON ORDERS OVER $99