Acid-Kicking Plant-Based Protein Chocolate
Regular price

Sale price

$ 44.95
1. HEALTH BENEFITS:

Burn Fat: Boost metabolism and curb cravings with our Acid-Kicking Plant-Based protein - your ideal partner for weight loss.
Build Lean Muscle: With 20g protein and vital amino acids to strengthen your cells and muscles.
Boost Energy: Elevate your daily mental and physical performance.
Crush Sugar Cravings: A healthy replacement snack or meal to suppress hunger and reduce cravings.
Rapid Recovery: High in minerals and healthy plant-based keto fats to accelerate post-workout recovery.
2. HOW IT WORKS:

Power-Packed Protein: 20g of organic plant protein per serving for lean muscle, controlled cravings, and enduring energy.
Plant-Based & Organic: Premium, USDA-certified organic ingredients for a perfect vegan-friendly protein boost.
Balanced Formula: Balanced mix of alkalizing proteins, keto fats, sprouts, and coconut oil to strengthen your body from the inside out
All-Natural & Allergen-Free: Dairy-free, soy-free, GMO-free, gluten-free, and sugar-free - safe for all dietary needs.
Versatile Use: Ideal for meal replacement, healthy snacking, or post-workout recovery.
Pure & Clean: No whey, sugar, artificial sweeteners, or fillers - only top-quality ingredients in every serving.
3. WHEN TO TAKE IT:

Suggested Use: Blend 1 scoop into 8-12 oz. of cold filtered water, nut milk or smoothie, 1 to 3 times daily
Flexible Dosing: Enjoy as a total meal replacement, healthy snack, or post workout recovery drink

Children can also benefit from this supplement, but please consult your healthcare professional or pediatrician for appropriate dosage.
Share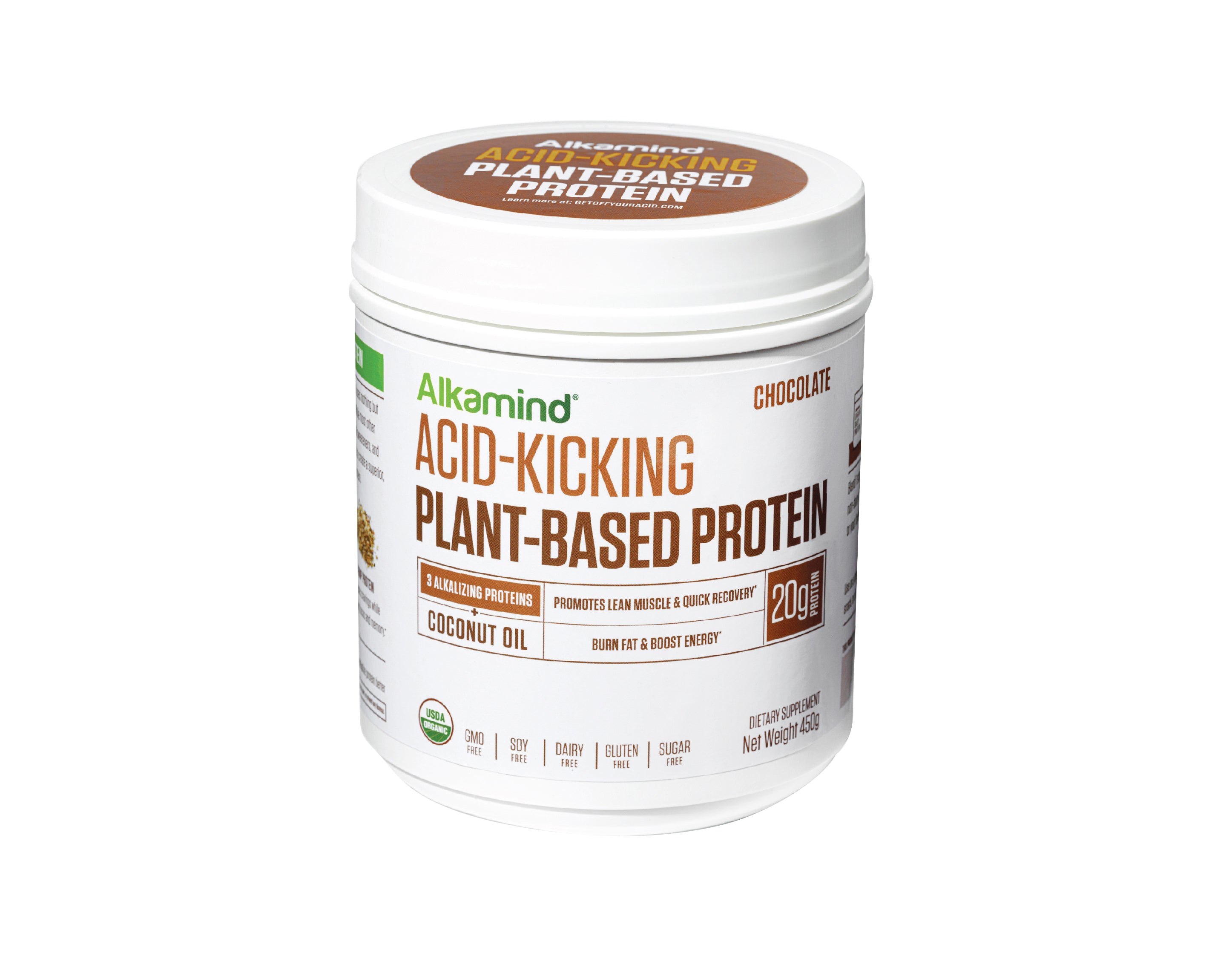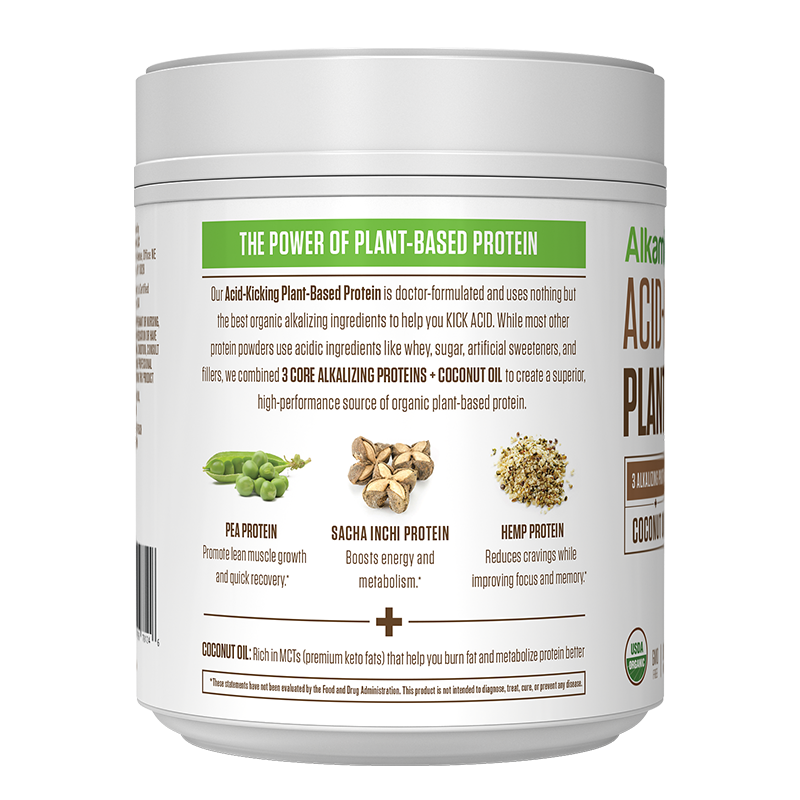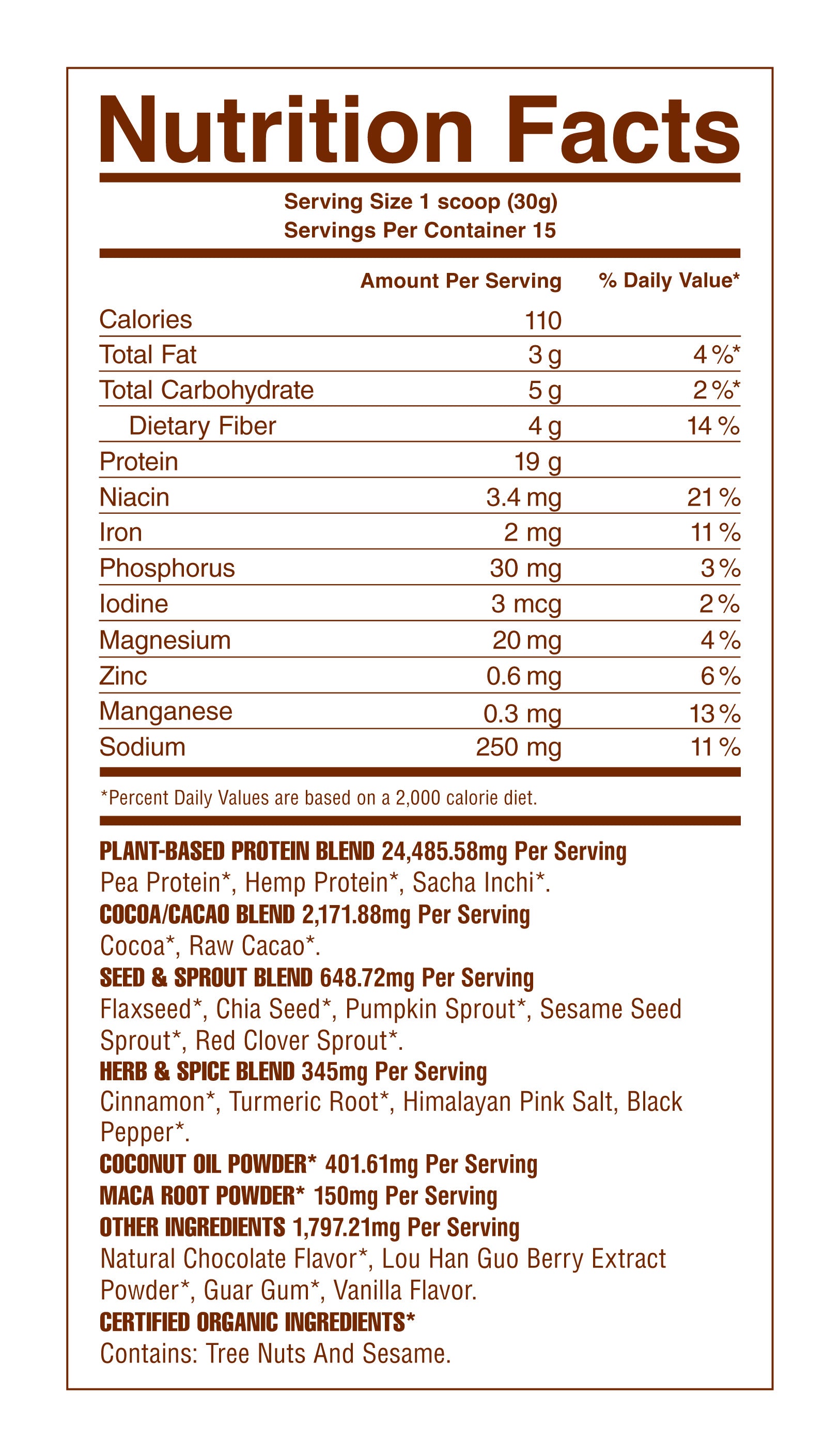 Acid-Kicking Testimonials
Mario Lopez

Mario Lopez rejuvenates with Acid-Kicking Protein after workout.

Garrett McNamara

Garrett McNamara, Big Wave Surfer and Author, with Alkamind Acid-Kicking Protein Powders. Ready for the next wave!

Jill Zarin

Housewife Jill Zarin loves Alkamind Acid-Kicking Protein powders.
100% Satisfaction Guaranteed

EASY RETURNS

30-DAYS MONEY BACK GUARANTEE

FREE SHIPPING ON ORDERS OVER $99
Ingredients
Pea Protein

FAST TRACK workout recovery and build lean muscle.
Sacha Inchi

This indigenous Peruvian SUPERFOOD protein boosts energy and metabolism.
Hemp Protein

CRUSH cravings and inflammation with this complete protein, packed with Omega 3 Fatty Acids.
Coconut Oil

BURN fat and increase metabolism with this MCT (medium chain fat) promoting alkalizer.
Unrefined Cocoa

REDUCE oxidative stress and stabalize blood pressure.
Raw Cacao

With 40X the antioxidants of blueberries, more calcium than cow's milk, and rich in magnesium, makes this Amazonian superfood anti-aging, health-boosting, and acid-fighting.
Flaxseed

FIGHT inflammation and chronic disease.
Chia Seed

SUPERB source of protein and fiber that builds lean muscle and aids in digestive health.
Pumpkin Sprout

An antioxidant SUPERHERO loaded with B12, folate, and potassium reduces stress and promotes healthy sleep habits.
Sesame Seed Sprout

Highly DETOXIFYING and hormone balancing.
Red Clover Sprout

BURN fat and BOOST skin health with this superfood.