Acid-Kicking Greens Raw
Regular price

Sale price

$ 44.95
1. HEALTH BENEFITS:

Energizes, detoxifies, and alkalizes your body for improved overall health
Lower inflammation and boost metabolism
Boosts energy levels, mental focus, and supports weight loss
Strengthens your hair, skin, and nails
Restore balance to your microbiome
2. HOW IT WORKS:

Doctor-Formulated with 21 nutrient-dense alkaline superfoods to strengthen your body from the inside out.
5 servings of organic greens in every scoop 100% raw and organically grown for maximum freshness and potency
No GMOs, gluten, soy, sugar or anything artificial
3. WHEN TO TAKE IT:

One scoop equals 5 servings of organic greens
Contains 30 servings per container
For best results: mix 1 scoop into 8-16 oz. of water, juice, or smoothie, 1 to 3 times daily
Safe and recommended for children, but consult your healthcare professional or pediatrician before taking
Share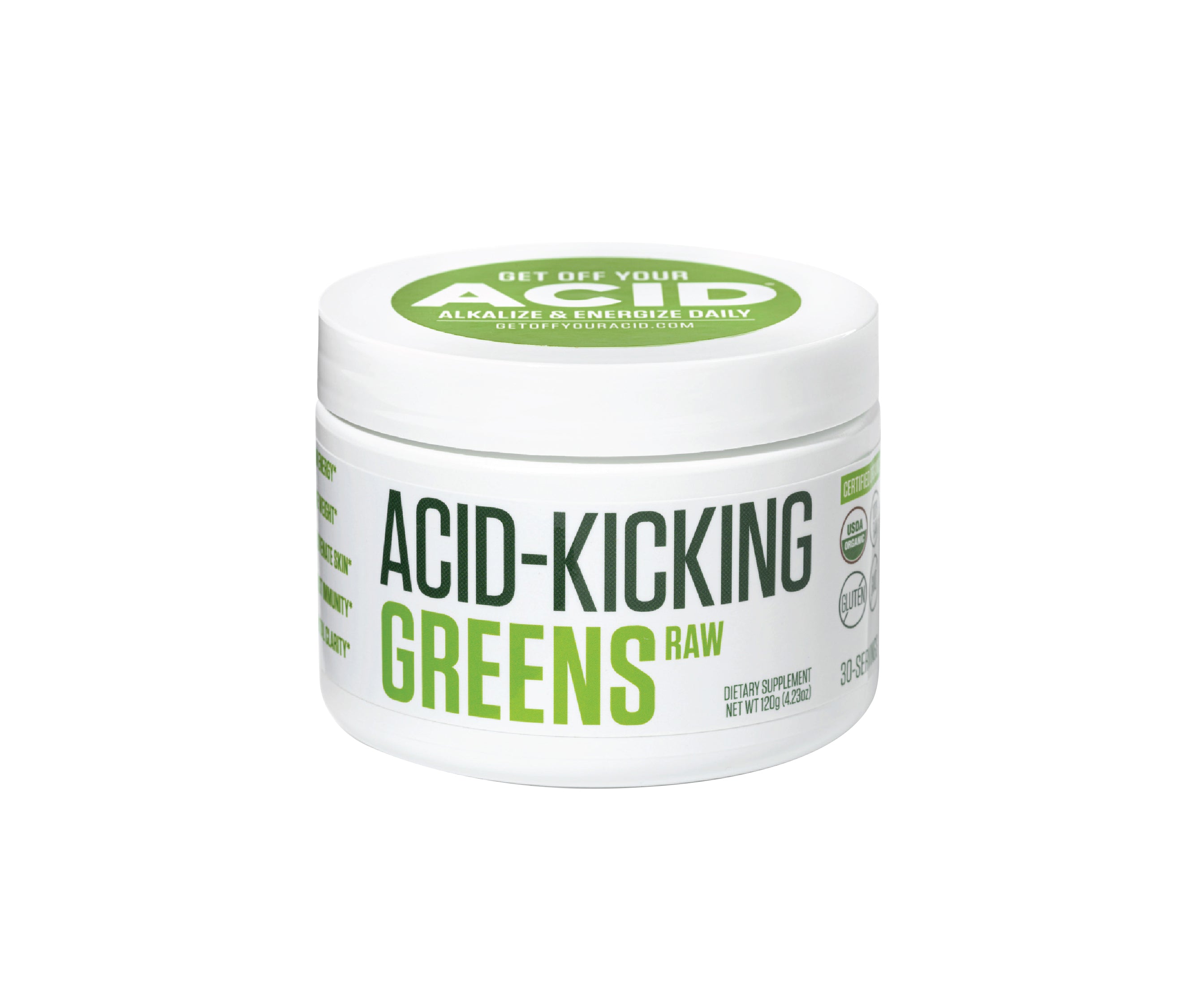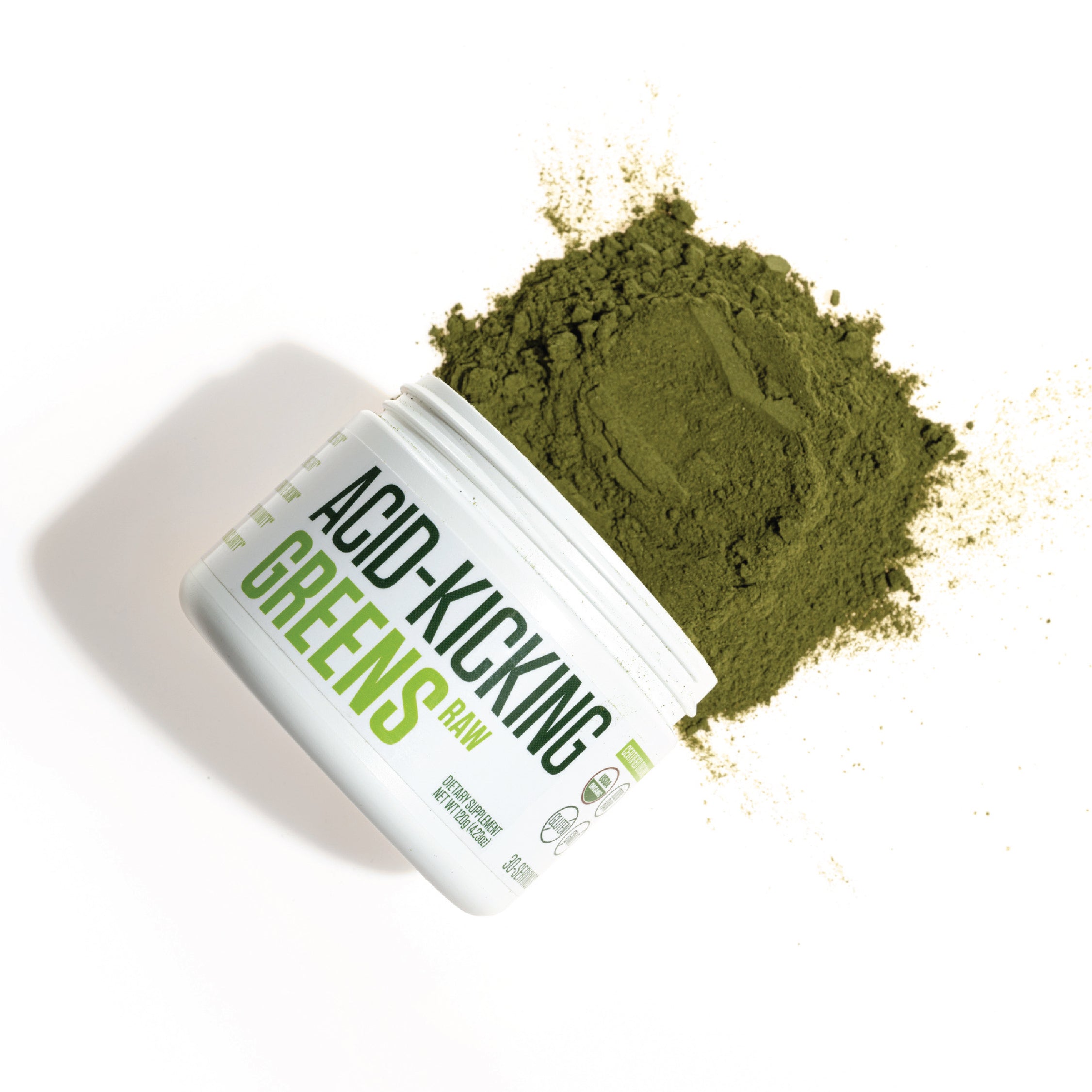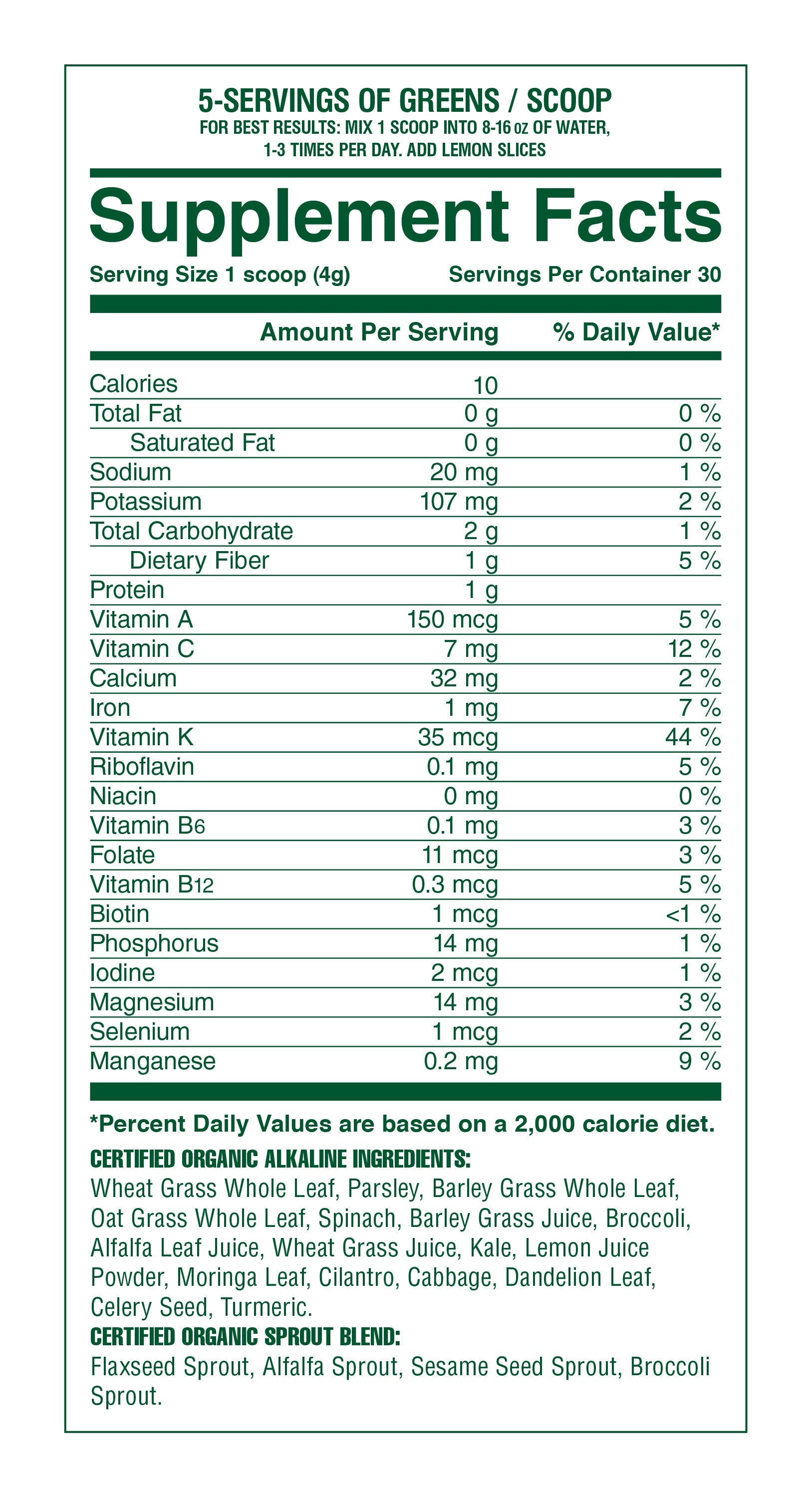 ACID-KICKING TESTIMONIALS
Shayna Taylor - Shayna's Kitchen

"I'm so in love with the Get Off Your Acid program and the Daily Greens, Daily Minerals, and Daily Omega-3."

Kelly Ripa - Harpers Bazaar

"Everything I eat in a day..."

Luann de Lesseps

From Luann de Lesseps — "You're always asking me how I stay thin..."
100% Satisfaction Guaranteed

EASY RETURNS

30-DAYS MONEY BACK GUARANTEE

FREE SHIPPING ON ORDERS OVER $99
Ingredients
Wheat Grass Whole Leaf

 A Chlorophyll rich superfood, which neutralize toxins in the body and alkalizes the system.
Parsley

 An anti-inflammatory superhero that has been known to boost immunity, fight cancer and boost bone health.
Barley Grass Whole Leaf

 Doubles the speed that your DNA can repair itself and supplies superb fiber to the body to aid in digestion and relieve constipation.
Oat Grass Whole Leaf

 This super grass helps you to feel fuller for longer.
Spinach

 A power-packed superfood that improves eyesight, strengthens muscles, and boosts metabolism
Barley Grass Juice 

Super potent with 7x more vitamin C than oranges, 5x more iron than spinach, and 10x more calcium than milk.
Broccoli

 Hypes your collagen, improves circulation and protects from free radicals.
Alfalfa Leaf Juice

A mineral powerhouse that alkalizes the body and purifies the liver.
Wheat Grass Juice

 Imagine Wheat Grass, just to the MAX.
Kale

 A KICK-ACID blood detoxifier high in fiber and antioxidants.
Lemon Juice

 SUPER antioxidant that repairs tissue and aids in the absorption of iron.
Moringa Leaf

 An African "Miracle Tree" plant that optimizes brain function, protects liver, and reduces oxidative stress.
Cilantro

 CRUSHES toxic heavy metals and improves stress and sleep.
Cabbage

 A digestive health SUPERHERO that aids in digestive health and improvement of cholesterol levels.
Dandelion Leaf

 A SUPER immune strengthener that allows your liver to quickly eliminate toxins.
Celery Seed

 POTENT all-natural antibiotic known to reduce inflammation, bloating, and fight infections.
Turmeric

 All-Natural Painkiller and cox-2 inhibitor, that aids in metabolism and weight management.
Flaxseed Sprout 

A Cancer FIGHTER that is 30x more nutritious than the seed itself.
Alfalfa Sprout 

Minimizes menopause symptoms and lowers blood glucose levels.
Sesame Seed Sprout 

DETOXIFIES the body and has the ability to prevent diabetes.
Broccoli Sprout 

FIGHTS certain cancers and infections, and combats cardiovascular disease.